The following sensors are all compatible with: Infiniti Q70 2013-2016.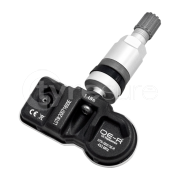 TYR-S071.1
OE-R Clamp-In Sensor S071
Aftermarket OE replacement sensor. Please note a scan tool is required to gather sensor information – including the Sensor ID wh... (more)
Barcode:
6924478950503
Comparative Part Numbers:
HTS-A69BM-S071, 72-20-914, 5628671
Service parts for the Pacific CCN32 Clamp-In style sensor:
TYR-K017_10
Box Of 10 Service Kits for Pacific LFB1 / LFC1
A box of 10 service kits, with each including: 1 Nut, 1 Rubber Grommet, 1 Plastic Washer, 1 Valve Cap and 1 Valve Core. This ser... (more)
Barcode:
6924478961615
Comparative Part Numbers:
6-116T, 72-20-525, 21030, 20031, 1110K, 5628533, 591307, 92-0135
You must be logged in to view relearn procedures.