The following sensors are all compatible with: Ford Galaxy 2006-2015.
CON-S032
VDO TG1C Clamp-In Sensor
VDO TG1C OE replacement sensor.
Barcode:
5055563000283
Barcode:
31302096
Comparative Part Numbers:
72-20-029, 4041, 66042-67, 20097, 1044,5134, S180052020, 8G921A159AE, 31280297, 8G921A189KB, S180084730Z, 312802970, 313020960, S122780002B, 30681555, 30666931, 30761984, 6G921A159BA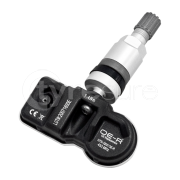 TYR-S086.1
OE-R Clamp-In Sensor S086
Aftermarket OE replacement sensor. Please note a scan tool is required to gather sensor information – including the Sensor ID wh... (more)
Barcode:
6924478950558
Comparative Part Numbers:
HTS-A69BM-S086, 72-20-375, 5628686
Service parts for the VDO TG1C Clamp-In style sensor:
You must be logged in to view relearn procedures.