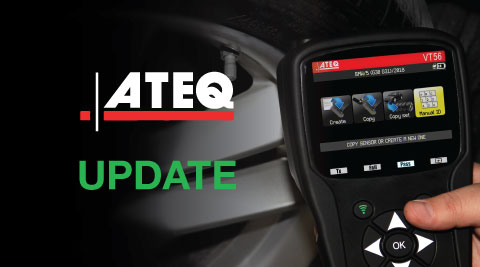 Manual ID Function Included in Latest ATEQ Update
10-09-2018
ATEQ, the global market-leading manufacturer of TPMS diagnostic tools has released a software update enhancing the VT36, VT46, VT56 with new features, vehicles and sensor coverage including our T-Pro Hybrid 1.5.
Amongst the features in this update is the Manual ID Function for models, VT56 and VT56 SE. As its name suggests, users can manually input a sensor's ID. This function will come in handy for instances when a sensor's battery is flat and therefore unreadable. Instead, enter an OE sensor's ID (found on its housing) then transfer it to an EU-Pro, T-Pro or ABS sensor - the only compatible sensors at present – avoiding relearns as ID's remain identical.
Furthermore, the functionality of ATEQ's Mitsureset adapter, which facilitates TPMS relearns for Mitsubishi ASX, Eclipse Cross, Lancer and Outlander by transferring sensor ID's to the ECU via their OBDII portal - is now included on the VT56 and VT56 SE.
As a result, garages no longer need to rely upon a Mitsureset adapter or pay a typically costly visit to the dealer to perform a relearn if they have access to said tools.
Additional features and improvements are as follows:
VT56 – Improved part number lookup
VT56 - Added support for Trailer TPMS and Retrofit Kits
VT56 – Indirect vehicles on the Check TPM Menu
Update your TPMS diagnostic tool via WebVT by connecting it to a PC with the USB cable provided. If you haven't got WebVT, download it here.
If you require help installing WebVT or updating your TPMS diagnostic tool, watch this step-by-step video by ATEQ. Nonetheless, please do not hesitate to contact us if you have any further questions.