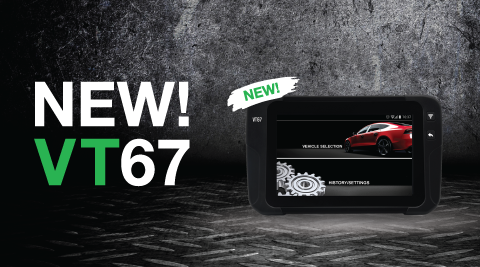 Meet the Ultimate TPMS Diagnostic Tablet
03-09-2021
We have announced details of another new ATEQ TPMS tool we are releasing in Europe this year. The VT67 is ATEQ's ultra-premium TPMS solution. The Android OS and 8-inch touchscreen display deliver an engaging and expansive way to experience ATEQ's most advanced features as well as the latest software updates, which come free of charge for two years. What's more, the built-in camera and email client, which let technicians send imagery of any issues, provide the ultimate customer service experience.
The following paragraphs summarise other notable features of the VT67.
TPMS Diagnostics
ATEQ says the VT67 re-imagines the way technicians diagnose and validate TPM systems. For instance, if a vehicle's engine management light is on, technicians can connect the tool (to the OBDII port) and retrieve a DTC code to identify what and where the issue is. Furthermore, the aptly named ID Match feature will come in handy if the TPMS light is on despite correct tyre pressures. Technicians can check if the sensor IDs match what is on the ECU. Any discrepancies will indicate a relearn procedure was not performed after programming or replacement.
Tyre Management
Besides recording DOT codes and measuring tread depth*, technicians can register a new tyre pressure placard value (in the ECU) when fitting tyres with a different load index, e.g., off-road tyres. Using this feature will maintain a functioning TPM system and avoid triggering the TPMS light. Coverage includes popular models from the likes of Ford and Stellantis brands (Abarth, Alfa Romeo, Chrysler, Dodge, Fiat, Jeep, Lancia Opel, Peugeot and Vauxhall).
Job Management
The VT67 boasts a large memory for storing countless TPMS reports. Thanks to this, technicians can compare reports and then tailor the service accordingly. For example, a persistent loss of pressure could be, in fact, the result of a faulty valve rather than a repeat puncture. Not only will a more comprehensive service improve the customer's perception of the workshop, but it also allows the technician to upsell the correct replacement part/s.
TPMS Management
ATEQ's patented Sync-ID technology has standardised OBDII relearn procedures for 90% of vehicles with direct TPMS. Technicians only need to learn one process rather than hundreds, which is the case with the manual option, boosting productivity.
The VT67 is compatible with over 20 aftermarket sensor brands, including Hamaton and Tyresure. The Live Sensor platform (offering real-time sensor updates) and the tool's wireless capability make getting the latest coverage effortless. The VT67 also comes with a two-year warranty (12 months longer than other VT tools), onboard FAQs and an image library of sensor and service kits.
For more information or to pre-order the ATEQ VT67, please contact us. *Additional tyre tread depth gauge required.