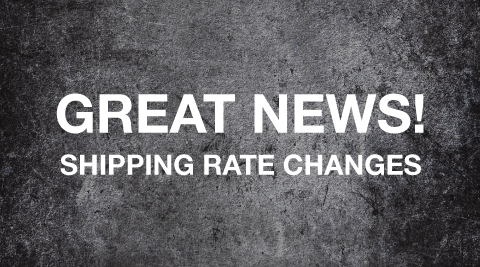 Great News! Shipping Rate Changes
28-09-2020
Here at Tyresure, we are always looking for ways to optimise our service and delight our valued customers.
In an effort to reduce shipping costs, we analysed your buying habits then negotiated a favourable deal with our courier. We are pleased to announce a new and improved pricing structure will take effect from Thursday 1st October 2020.
We trust this will provide better value for all and reflect our commitment to supporting customers, particularly during these unforeseen times.
What are the changes?
UK Customers
The weight limit of the first bracket has doubled to 20kg. Therefore, consignments that typically fell between 10.1 and 20kg will benefit from half-price shipping. Subsequent brackets will continue to increase in £6.50 increments per 10kg. This rate will change slightly to £7.50 per 10kg once consignments exceed 70kg. However, the larger allowance (0.5-20kg) will have a positive impact on every bracket as the below table outlines.
Former Rates

Rates from 1st Oct 2020

1

0.5-10kg

£6.50

0.5-20kg

£6.50

(2)

10.1-20kg

£13.00

2

20.1-30kg

£19.50

20.1-30kg

£13.00

3

30.1-40kg

£26.00

30.1-40kg

£19.50

4

40.1-50kg

£32.50

40.1-50kg

£26.00

5

50.1-60kg

£39.00

50.1-60kg

£32.50

6

60.1-70kg

£46.50

60.1-70kg

£39.00

7

70.1-80kg

£54.00

70.1-80kg

£46.50

8

80.1-90kg

£61.50

80.1-90kg

£54.00

9

90.1-100kg

£69.00

90.1-100kg

£61.50
European Customers
We have replaced 30kg increments with two smaller brackets (0.5-15kg and 15.1-20kg) and reduced the rates accordingly. Therefore, customers will take advantage of a more appropriate rate for lighter consignments. For consignments over 20kg, we will apply a small rate (zone depending) for each 10kg.
In case of any questions or to find out your zone-specific shipping rate, please contact our sales team.